NextGen Cost Estimating & Analysis Meetup – February 2019
On Thursday, February 28th Technomics hosted the NextGen Cost Estimating & Analysis Meetup group's first event of the new year. Ms. Tullar, the Director of Business Plans and Operations at the National Reconnaissance Office (NRO), led participants in a discussion about bridging the gap between cost estimation and budget formation. At the NRO, Ms. Tullar is responsible for all business functions, including budget planning, cost estimating, and contracting. With over 22 years of national intelligence resource management experience, Ms. Tullar provided valuable insight to the audience of cost analysts and government leaders.
Ms. Tullar's overarching focus on how portfolio analysis can lead to credible, effective portfolio management branched into further discussion on career progression in the budgeting field. Bridging this vital gap between budget formation and our cost environment will move the cost community up the value chain in a meaningful way. She outlined core principles to guide career progression as it related to cost analysis, budgeting, and overall professional development.
Ms. Tullar's Guiding Principles:
Prove your value
Be aware of the larger context of your work
Identify the job you would like to retire in
Prove your Value
Ms. Tullar emphasized the importance of owning your business area. Her focus included the criticality of "giving the best you've got," pushing the envelope, and delivering value that is above and beyond. A major key to proving value is continual learning. Ms. Tullar suggests analysts participate in trainings whenever possible, actively involve themselves in understanding talent acquisition and retention, and leave their comfort zone often. In a field that places such heavy emphasis on improving the state-of-the-art, everything boils down to value creation. A foundation of knowledge in both the cost estimation and budget formation arenas, paired with a healthy curiosity, will prove to be priceless.
Awareness of the Bigger Picture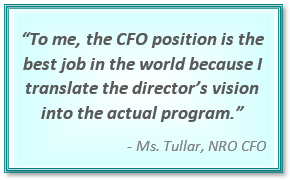 A successful analyst has a strong situational awareness and a firm grasp on how his or her work fits into the bigger picture. It is imperative to constantly ask why you are doing what you are doing and how it contributes to bringing value to the client. Throughout Ms. Tullar's career, she has seen the positive impact situational awareness has on an individual and the organization as a whole.
Ms. Tullar underlined the core differences between classic cost estimation, heavily seated within the acquisition phase of procurement, and the budget environment. In such a dynamic environment, budgeting decision-makers value a timely analysis with a lower confidence interval over one with 100% confidence that arrives a day later. This insight is against the perfectionist nature of many cost analysts, however it is an important consideration when bridging the two worlds.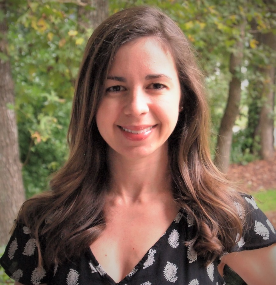 "Cost estimating and analysis ties closely with budget development, from financial management of actual and planned tasking to the system level modeling of future cost and budget requirements.  A cost professional's perspective and analytical expertise can offer an unparalleled advantage in the throes of fast-paced budget preparation and defense.  The opportunity to play a role in the budget environment should not be underestimated but embraced and utilized as a way to expand our breadth of contribution to decision makers."
- Lexi Pappas, Technomics Lead Analyst
Identify the End Goal
Another vital but often underutilized method of achieving both professional and personal long-term goals is identifying the final objective first. The key to professional development is identifying the position you would like to have when you retire, then strategizing a path to get there. Determine how you would define a successful career for yourself and develop your professional toolbox accordingly.
Join us at the next Cost Estimating & Analysis Meetup in the coming weeks. The new year is sure to include more stimulating discussion on hot topics in the cost analysis community from a host of the area's premier thought-leaders. See the Meetup group page for updates on upcoming events and speakers.
Photography by by John Choe