October is Employee Ownership month at Technomics, Inc. Every year we celebrate each other, our ownership culture, and the successes employee ownership brings us with activities aimed at reinforcing the collective respect and appreciation we share for our peers and colleagues. This is not an unusual phenomenon across employee-owned companies, but here at Technomics, the presence and importance of this practice is entrenched in the hearts and minds of each of our employee-owners every month of the year – not just October.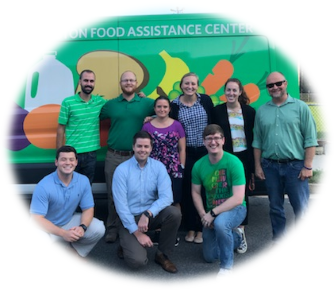 At our company, Employee Ownership upholds and demonstrates our values, vision, and mission – every minute of every day – period.  The standard of Employee Ownership is how we define and measure ourselves, both as a company and as individuals.  From the most junior of analysts to our President and CEO, Al Leung, we each take pride in our ability – our responsibility – to contribute to the collective success of our team.
Having grown with Technomics over the last 16 years, I have seen how an Employee Owned company fosters significant opportunity for its employees.  Now that I am part of the senior leadership team, I feel compelled to help create the same opportunities I have had for my colleagues. Whether that is providing on-the-job training, helping a teammate develop a business lead, or working to improve a corporate capability; I am invested in ensuring every employee owner has the opportunities they need to grow professionally right here at Technomics and collectively share in each other's success."

Michelle Petre, Practice Area Director
Employee Ownership reaches far beyond the ones and zeros of our Employee Stock Options Plan; it manifests in a myriad of individualized ways across our company and has a personal meaning to each employee.  In October, our leadership provides us with a concentrated opportunity to highlight and celebrate those individuals and the employee-driven initiatives that keep our company true to itself – and in doing so reinforces the catalyst behind what Employee Ownership means to us.
Creating the Ultimate "Win-Win"
As President and CEO of Technomics, Al Leung is responsible for the strategies, day-to-day operations, and bottom-line performance of our employee-owned company. According to Al, the overall intent of Employee Ownership is to create a greater "win-win" among client, colleagues, self, and company.  It's not about serving and furthering just one or two of these important groups, but creating a system and model where we improve the success of all four.  Only then can we truly achieve sustained growth in people and company.
Employee Ownership (EO) sharpens our focus, inspires initiative and creativity, and makes us intolerant of the status quo and dissatisfied with the mundane and the mediocre.  Think then of EO as a force multiplier where all the players on the board benefit.   We benefit.  Clients benefit.  And our warfighters benefit.  EO enables a win-win outcome to a greater degree than any other business model ever created."

Brian Flynn, Subject Matter Expert
Not only do we have a tangible stake in the company, but we are constantly molding an environment in which we behave invested as well. The difference is that rather than placing my sole concern in my individual development, I work every day to bolster the success of Technomics as a whole."

 

Emily Smith, Associate
A Rewarding Company Culture
Employee ownership behaviors have established a rewarding culture at Technomics.  We think and act like owners, take initiative, ignore "credits," and work together to improve our collective performance – not because we're told or asked to, but because it's the right thing to do.  Having a personal stake in the outcome of our behaviors and performance leads us to treat others' efforts and ideas with a higher respect and genuine interest.
The culture at Technomics is evident from the first conversation you have with someone here.  Each individual and their contributions matter to others in the company – from peers to president.  Our efforts are guided by a vested interest in company performance rather than expectations or rules, which in turn makes our hard work more fulfilling."

Lexi Pappas, Lead Analyst
I feel that employee ownership creates a strong bond of trust, loyalty, and empowerment between all members of the organization.  And because everyone of us has a stake in the company's longevity, it creates a rich family environment of unique hard working individuals that seamlessly works together to achieve innovative solutions for our clients and our company's growth.  I am proud to call Technomics my other family.  We work hard, but we play hard as well! "

Un Callner, Project Manager
Solving Harder Problems Better
Almost always, client problems are getting harder, not easier.  We are a services company, and there's little point to winning work if we don't continue to grow and improve!  As employee owners, we strive to better solve these increasingly tough problems for our clients.  This means so much more than just doing great work; we take great care to hire great people, take care of them by offering them training and development opportunities, challenge them to be accountable, prioritize business development, and continuously develop our corporate capabilities.  These aren't just things we say.  They are what we do.  For example, our CEO interviews every single candidate, even entry level candidates.  Another example is we don't just offer online training, we have our own training institute through we teach a variety of subjects including, cost estimating, consulting 101 and the art and sciences of business development. The ownership mindset and culture contributes to the outcome of these shared values and efforts.
Employee ownership allows each of us to directly benefit from sound strategic decisions. This linkage helps foster a team mentality, where everyone works to the benefit of not just the individual but the entire company."

Whiticar Darvill, Senior Analyst
Developing our workforce and delivering superior results to our clients is paramount at Technomics. Employee ownership enhances our ability to achieve these objectives through the promotion of a collaborative environment in which all voices are heard and result in innovative solutions."

Pat McCarthy, Project Manager
Going Above and Beyond
Employee ownership for us means encouragement to go above and beyond to do something important for the company.  We have a greater vested interest in the outcome, and it empowers us to step up for the benefit of others and 'the greater good.'
Through employee ownership, Technomics has cultivated a culture where 'the best idea wins'. As an employee owner, I am not only invested in the success of Technomics but am empowered to voice new ideas, challenge the status quo, and contribute to our collective standard of excellence."

Britt Staley, Lead Analyst
Employee ownership invokes a strong sense of pride among the employees at Technomics. Technomics' employees push themselves and their coworkers to exceed expectations of the client to cement the company as a leader in the cost community."

 Thomas Nye, Associate
Of the many things that employee ownership is and means at Technomics, it is consistently a mindset that both encourages and challenges us all to take an active role in the success of our company.
What does – or would – being an Employee Owner mean to you? We believe the possibilities and benefits are limitless.
Images by John Choe