In the midst of all of the advertisements and commercialization of the holiday season, it is important to take time to slow down and reflect upon one's priorities and values. A part of that reflection involves giving back and appreciating the life we are so fortunate to live. In keeping with this spirit, Technomics has participated in three charitable activities during the month of December. Our goal was to help and inspire local families and community members.
Helping Families: 50/50 Raffle for Bethany House

At the Technomics Holiday Party on December 8, we held a 50/50 raffle in which many employees and their families participated.  As the name implies, the raffle involved contestants purchasing raffle tickets in which 50% of proceeds went to a lucky raffle winner, while the remaining 50% went to one of our philanthropic partners.
I am so thankful that Technomics has taken an interest to financially support this wonderful organization this holiday season.  It warms my heart to know that I am a part of an amazing company that tries to help others because they can and want to.

– Un Callner, Senior Analyst, Technomics, Inc.
The proceeds of the Technomics 50/50 raffle will be donated to Bethany House of Northern Virginia located in Alexandria. Bethany House is a non-profit organization that offers a safe haven for women and children escaping domestic violence.

Bethany House provides emergency shelter and support services to victims of domestic violence (the most common form of violence and least reported crime) throughout Northern Virginia and the surrounding DC metro communities. Bethany House also offers coaching programs to assist women and children escaping domestic violence to rebuild themselves and their families in areas such as parenting, budgeting, self-care, working with the legal system, and more. As the statistics at left show, there is a tremendous need for the services that Bethany House provides. Our partnership ensures that more women and children in the community can be reached.
Giving Gifts: The Angel Tree
Technomics believes that every child should receive gifts this holiday season, we have partnered with a nationwide organization called Angel Tree to ensure that this need is met for children in need in our region.  Angel Tree is operated by The Salvation Army and provides gifts such as clothing and toys for children.  This program reaches 6,000 families in the Washington DC area alone.  To participate, Technomics employees picked an "angel" ornament  off a tree located in our common area.  Each "angel" contained the name, age, sizing details of a child, along with their desired gift. The donor then went out and purchased the requested gift, and placed it under the tree for collection.
This year, Technomics Employee Owners supplied gifts for 20 children in the Arlington area. In total, Technomics supplied over 80 gifts to the Angel Tree!
Honoring Veterans: Wreaths Across America
Technomics also takes the opportunity to honor veterans and their families who have made the ultimate sacrifice for our country. Another popular Technomics service opportunity was Wreaths Across America.  Technomics Employee Owners have supported this program for the past seven years.  The concept for Wreaths Across America first began in 1992, when a wreath company owner named Morrill Worcester donated his supply of extra wreaths to Arlington National Cemetery as a tribute to the soldiers buried there. Worcester continued this tradition quietly each year, but over time his wreaths garnered national attention.  Worcester co-founded Wreaths Across America (WAA) in 2007, and today this organization places over 700,000 wreaths at over 1,000 cemeteries nationwide.  Although WAA now has a nationwide focus, Arlington remains a strong focus for the organization.  In 2014, the group covered all of Arlington Cemetery for the first time, placing a total of 226,525 wreaths in the National Cemetery.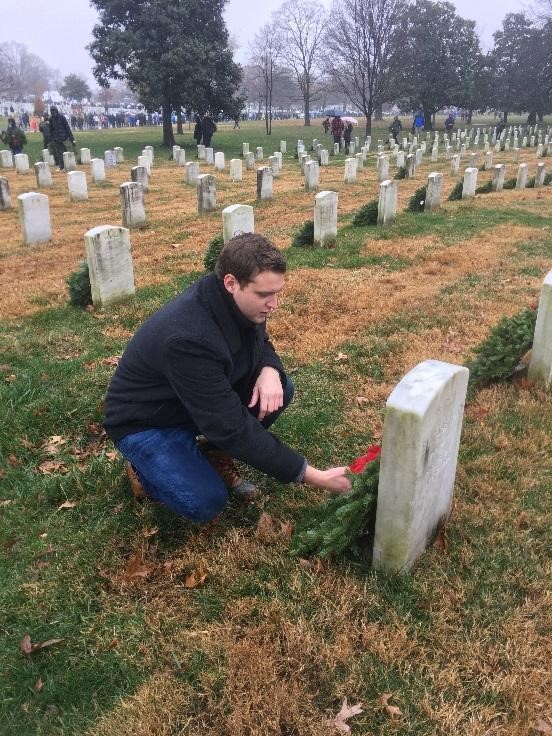 The tradition of laying wreaths at Arlington Cemetery takes place each December.  As WAA has grown in size, it has become a volunteer-driven effort.  One way that volunteers can help is through sponsoring a wreath, making a donation to offset the costs associated with production, shipment, and final placement of the wreath.  Volunteers can also help directly by laying wreaths at participating WAA locations, including Arlington National Cemetery.
Despite the rain, thousands showed up to Arlington National Cemetery this past Saturday, December 15th, to place wreaths at each of the 237,000 tombstones throughout the cemetery. A total of 186 wreaths were donated by Technomics this year, and many Technomics employees showed up to volunteer. The effort this year was led by Technomics Associate, Connor Jones.  Connor was inspired to take charge this year due to both his grandparents being laid to rest at Arlington National Cemetery. After laying wreaths, Connor visited the grave of his grandfather, who was the former Chairman of the Joint Chiefs of Staff, which made the event that much more memorable.  Thank you to all who donated and participated in this remarkable event!
We here at Technomics would like to wish our readership a wonderful holiday season and a happy new year.  May this season sparkle with spirit of giving and may the warmth of the memories created radiate into the year ahead.  Happy Holidays!